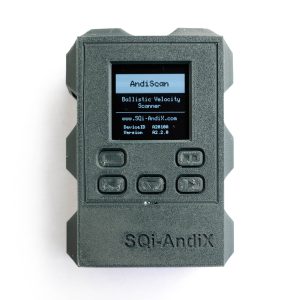 ---
New and updated features of A2 model
completely redesigned electronics – to make the device more robust, better serviceable and to allow new functionalities
modifications of the mechanical form factor – better ergonomics of keys, easier battery access, SD card slot in more robust position against acceleration shocks, unified dimensions of mounting slots
real time clock – allows to keep a track of time and date in measurement data
extended configuration of transceiver HW – allows fine offset setting of carrier frequency for better interference control, gain of the receiver can be set to two values for handling extremely weak and extremely strong signals
remote trigger option – allows precise triggering with minimal latency (less than 200 microseconds) for almost "true" V0 measurement or for a triggering of the device in special measurement setups
internal memory independent of SD card – for storing last 100 measured data
automatic self-calibration of internal trigger sensor – better and repeatable settings in wide range of environmental conditions
improved browsing of stored data – long key press for fast changes
power profile display – 16 slot line display showing relative power of the received signal over the measurement window. It allow the user to find possible problems with triggering or with aiming the antenna.
mounting side-offset compensation – (see Chapter 5 of User Guide) the compensation of the side offset allows to find a true V0 velocity value.
improved signal processing – the processing is more tolerant to proper positioning of the device and eliminates some imperfections of radio wave propagation
SD/ES display choice
Key features
Micro form-factor allows a direct mount on the rifle. The form-factor minimization was a main design target.
The direct rifle mount close to the chamber enables to trigger the device by a direct transmission of the shot vibration waves. It makes a reliable and short latency triggering.
Short latency triggering allows to perform a velocity measurement directly on close-to-muzzle range. This avoids the need of any measurement extrapolations to get the muzzle velocity.
Signal processing is optimized for velocity measurement precision and for small device form-factor.
A full velocity measurement statistic including graphical histogram data are provided.
The device explicitly estimate its own measurement precision (99% confidence interval) based on received signal-to-noise ratio.
Production & Distribution
Important: Please check the availability in the e-shop. See our Terms and Conditions.
Specifications
Doppler radar in 24GHz band (24.150 – 24.220 GHz, channel spacing 10 MHz)
Transmitter output power 11 dBm
Velocity measurement range (* only in expert mode)

High (H) 484.9 – 1309.3 mps
(*) Wide (W) 242.5 – 1309.3 mps
(*) Mid (M) 30.3 – 303.1 mps
(*) Low (L) 1.0 – 121.3 mps

Measurement unit – mps, fps, kph, mph
Measurement precision with 99% confidence for given signal-to-noise ratio (SNR) (expected value based on theoretical analysis)

0.50 mps H/W range, SNR= 20dB
0.06 mps M range, SNR= 20dB
0.03 mps L range, SNR= 20dB
0.16 mps H/W range, SNR= 30dB
0.02 mps M range, SNR= 30dB
0.008 mps L range, SNR= 30dB

Minimum time between measurements – approx 1s.
Dimensions (H) 92 x (W) 66 x (D) 28 mm
Weight (including internal battery) 141g
Resources
(*) additional language versions (CZ) will be available soon.
Technical support
If you experience any technical difficulties or if you need a technical help contact us at info@sqi-andix.com.
Firmware Updates
Latest version and compatibility notes
(10/2022) The latest firmware version US/TXR is A2.4.0/A2.3.0
Change log

US_A2.4.0 (10/2022)
US_A2.3.0 (12.8.2022)

bug fix: corrected wrong displayed Min/Max/dv values in C4 configuration screen for Low range setting (affects only diplayed values, measurement itself is unaffected)
new feature: SD and ES can be shown both together at the main screen display, if it is set in C8 configuration screen

US_A2.2.0 (4.7.2022) – initial release
Firmware Update Request Form
[contact-form-7 id="1434″ title="AndiScan-A2_FirmwareRequest"]
Firmware installation instructions
AndiScan A2 has two main processing units – Main Board User Shell (US) and Transceiver board (TXR). Firmware (FW) for each of them is updated separately. The firmware file for US and TXR are named A2FW-US.BIN and A2FW-TXR.BIN respectively. For easier distribution and identification of their version, they are distributed as compressed zip files named A2FW-US.BIN_<version>.zip and A2FW-TXR.BIN_<version>.zip where <version> is the version number (e.g. A2FW-US.BIN_A2.4.0.zip). Before using them for the update procedure, they must be unzipped to A2FW-US.BIN and A2FW-TXR.BIN on your personal compter and their names must be kept exactly as they are including the capital letters.
Version numbers of A2FW-US.BIN and A2FW-TXR.BIN do not need to be the same. The release compatibility notes will always declare which versions are mutually compatible. Updating A2FW-US.BIN is technically much easier and takes only few seconds. Updating of core low-level TXR firmware A2FW-TXR.BIN is technically much more complex procedure and it takes several minutes. Each phase of the upgrade has its information progress screen. Please, make sure that the device has a sufficiently charged battery. Powering off the device (e.g. due to a discharged battery) during the update process might have unpredictable consequences.
All following options are generally possible (on condition of mutual compatibility of the versions). (1) Upgrading only A2FW-US.BIN, (2) upgrading only A2FW-TXR.BIN, (3) upgrading both A2FW-US.BIN and A2FW-TXR.BIN at once. You can generally both upgrade or downgrade the firmware, provided that the chosen versions (US/TXR) are mutually compatible and also compatible with your device HW.
Update procedure steps
Check the current firmware US/TXR versions of your AndiScan A2 device (C0 configuration screen) and decide whether the update is needed.
Request the US and/or TXR firmware update file/files. For the following steps, they must be named A2FW-US.BIN and/or A2FW-TXR.BIN regardless of the version number.
Switch off your AndiScan A2, remove its micro SD card and insert it to your personal computer. Use the provided SD adapter if needed.
Store the file(s) to the root directory of the SD card.
Insert the SD card back to your AndiScan A2 device.
Switch on the device. The update is applied automatically. Do not switch off the device until normal operation screen is shown. Observe the progress screens and monitor for any potential warnings or errors. If there are no errors, the device finally gets into the standard operation regime. If there are any errors, contact us for resolving the issues.
Check the new firmware version shown on welcome screen or in the configuration C0 screen.